General Federation of Woman's Clubs - Illinois
" U N I T Y I N D I V E R S I T Y "
Meetings:
Island Lake Senior Center
3720 Greenleaf Ave.
Island Lake, IL 60042
2nd Thursday of Month
For Information about Membership
Joan Kreiling
P.O. Box 198
Island Lake, IL 60042
847-526-6540
History:
In the summer of 1943, a few ladies founded the Island Lake Woman's Club. Soon after its first meeting, there were over 80 members. At that time, approximately 350 Island Lake families were year-round residents, with a total of 72 sons and daughters in the service during World War II. The Woman's Club sent them cards, letters, and packages. The Island Lake Woman's Club still reaches out to veterans by sending Valentines to the Valentines for Vets program and supports Canine Companions, the American Legion, the VFW and many other veterans programs.
Club Committees:
Membership
Publicity
Veterans' Affairs
American Indians
Ways and Means
Projects:
We Donate To:
$150.00 in Subscriptions of Kind News Yearly to Area Schools
Salvation Army Two Times Yearly
(VA) Veterans' Medical Center in North Chicago, IL
(AIC) American Indian Center 1630 W. Wilson Ave., Chicago, IL 60640
(We make $8000.00 worth of donations to the AIC Yearly)
We Adopt a Teacher from a Deprived Area in the City of Chicago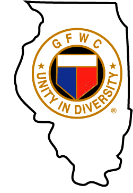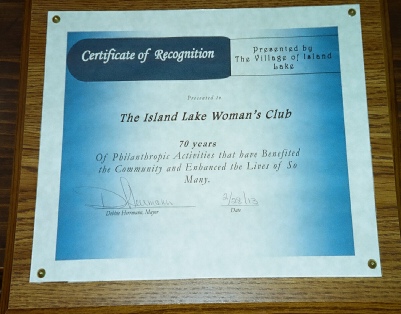 The Village of Island Lake, on Feb. 28, 2013, presented a plaque to the Island Lake Woman's Club to honor their philanthropic service on the 70th anniversary of the founding of the club.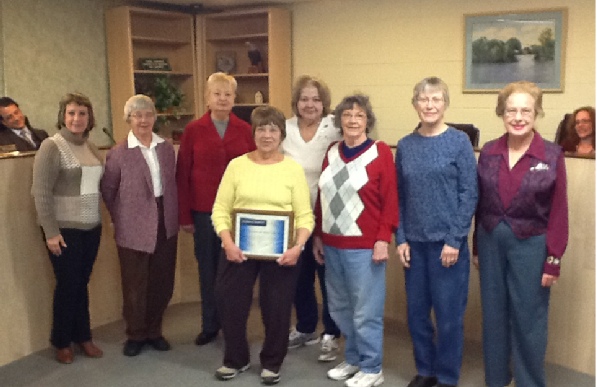 Pictured from left: Viillage Attorney David Silverman, Former Mayor Debbie Hermann, Woman's Club members: Ann Murray, Kay Kolacki, Joan Kreiling (holding plaque), Merrily Fantus, Juel Olmsted, Linda Gore, Dona Willard, and Village Trustee Shannon Fox.
Officers:
Merrily Fantus, President
Joan Kreiling, Vice President
Linda Gore, Treasurer
Dona Willard, Secretary